Here is another fabulous recipe from Kristina Carrillo-Bucaram: Apple pie that tastes exactly like Grandma's sugary-toxic recipe. Hint: it tastes the same because both are made with the same amount of LOVE!
Ingredients:
Bushels of love
8-10 apples of any variety
3 pounds of pitted dates
Raw dried or fresh figs
Cinnamon and/or Nutmeg
More optional ingredients:
Dried coconut powder
Blueberries and/or raspberries
A few tablespoons of coconut oil
More love (actually this is not optional)
To make the crust, toss a pound of dates with 1/2 pound of figs in a food processor, and process until it reaches a cookie dough consistency. (Optional step: add a thin layer of dried coconut flakes to the bottom of the pie dish.)  Press this date/fig crust into the bottom of your pie pan dish. (If you started with the coconut flakes, they will stick to the crust but not to the dish.) Optionally paint a thin layer of coconut oil on top of the crust… if this pie ever makes it to your fridge, the coconut oil will harden and make your crust even stronger.
To make the apple pie filling, blend 3 apples with about 3/4 lb of dates, cinnamon and nutmeg, in a high-power blender such as Vitamix or Blendtec. Thinly slice your apples with a knife or with a mandolin and alternately layer the apple slices with your pie filling. If you are making straight-up apple pie that can easily rival Grandma's, then you are finished now.
Kristina's recipe is so yummy that you will want to make it over and over. If you are like me, then you may want to make it a little different each time, so at this point you can add an extra layer with the fruits of your choice. Pictured below, you will see the version that I made with a top layer of blended blueberries, raspberries and dates (and of course more love), and decorated with coconut flakes and more blueberries.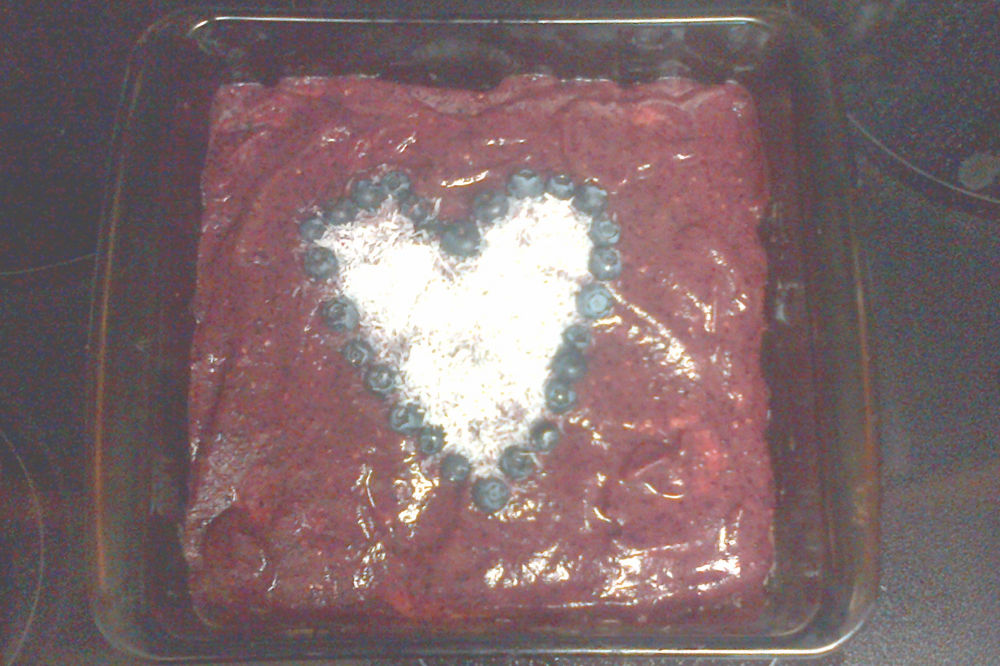 Aqui va otra receta fabulosa de Kristina Carrillo-Bucaram: Una torta de manzana que sabe igual a la receta (azucarada y toxica) de la abuela. (Sabe igual porque ambas recetas contienen la misma cantidad de AMOR!
Ingredientes:
Canastas de amor
8-10 manzanas de cualquiera variedad
3 libras de datiles (quita las semillas)
Higos frescos o secos
Canela y/o nuez moscada
Mas ingredientes opcionales:
Coco rayado seco
Moras y/o frambuesas
Unas cucharadas de aceite de coco
Mas amor (de hecho esto no es opcional)
Para hacer la base, agrega una libra de datiles con 1/2 libra de higo en un procesador de alimentos, y procesa aproximadamente 30-60 segundos. (Paso opcional: agraga una capa delgada de coco rayado seco en el plato de la torta.)  Empuja la mezcla de los datiles y los higos en el plato de la torta para . (Si usted empezo con el coco rayado, el coco se pegara con las frutas secas pero no con el plato.) Opcionalmente pinta una capa delgada de aceite de coco encima de la base… si esta torta llega a la nevera, el aceite de coco se endurecera haciendo la base aun mas fuerte.
Para hacer el relleno de la torta, licua 3 manzanas con aproximadamente 3/4 libra de datiles, canela y nuez moszada, en una licuadora fuerte como Vitamix o Blendtec. Corta las manzanas en pedazos bien delgados y construya su torta alternando entre niveles de manzana y el relleno sobre la base. Si lo que usted quiere es una torta de manzana tan buena como la de la abuela, pues ya la tiene lista!
Pero la receta de Kristina es tan deliciosa… apuesto que la va querer hacer muy frequentamente. Cada vez que yo la hago, la hago un poco diferente, asi que puede experimentar agregando una capa adicional con la fruta que le apetece en el momento. Abajo, puede ver la version que yo hice con una capa final de mora, frambuesa y datiles licuadas (y por supuesto mas amor), y decorada con coco rayada y mas moras.