Martial Arts and Yoga are two popular systems that go beyond physical exercise to encompass mental and physical exercises, cultivating balance and generating consciousness. Both systems are based on the timeless principle of observing and controlling the flow of energy. A true master of martial arts and/or yoga is a master of living. Sadly, many modern schools go overboard on the specific techniques and foreign jargon, such that students feel they cannot become masters. This is the exact opposite of what should be done.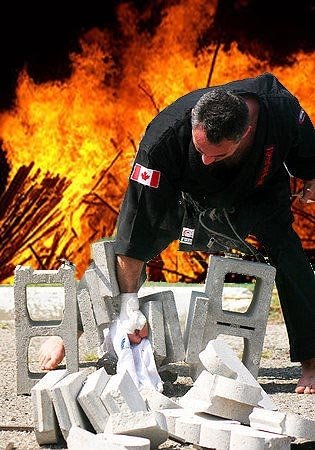 If you spend some time observing a master like Albert Mady, it will change your life for the better. Albert is a true master of his own style of mixed martial arts including Isshinryu Karate, Muay Thai and tameshiwari, wherein he converts himself to dynamite and explodes through and pulverizes concrete like it were a vanilla wafer.  Mady's full contact, bare-knuckle kickboxing class is a mix of women and men and there are classes for kids. Mady is equally committed to his world-champion students and the regular people wanting to learn life-saving self-defense techniques. And the lives he has saved are many.  Despite his innumerable honors and achievements, he remains down-to-earth, extremely generous, and a loyal friend to many. In my book that makes him a yoga master too. He has trained many bodies, and many minds to follow the invincible spirit at the heart of every student.
Yoga
Yoga is oneness. It is the reality inside you and in the entire universe at the same time. It is not necessary to "do something" to unite the universe. All that appears to be separated, is in fact connected, and always has been connected. The last stage of human evolution is to recognize this truth…when you discover oneness in your own heart, then you will automatically act in accordance with this consciousness. Yoga is the key to real, lasting freedom… from needless pain, from useless worries, from pointless repetition.

The Benefits of Yoga
Recognizing Yoga (oneness) offers physical, mental and spiritual benefits. Among the physical benefits are, a stronger, more toned and more balanced body that is free of pain. I have frequently applied yoga techniques to address the root cause (thereby initiating the reversal of symptoms) of the following conditions: stomach acid, cancer, heart problems, anemia, arthritis, asthma, backache, cold, cough, constipation, diabetes, insomnia,  migraines, obesity and other conditions. As for the mental benefits, yoga eliminates stress and leaves you relaxed so that you can live and sleep in peace. Yoga's spiritual benefit refers to the individual's finding of her or his "earthly mission" such that the body and mind can work harmoniously to fulfill the deepest desires of the spirit, those of love and unity and lasting joy.
Simply joining a yoga class is unlikely to give you this result. But yoga's benefits are well within your reach! Commit yourself to searching internally, and you will surely find within yourself that which limits  your holistic advancement. Others, such as your doctor, or perhaps a yoga instructor or a healer, may help you remove the impediment, and it is certainly possible to remove it on your own, without assistance. But this phrase "without assistance" should not be taken too literally. For if you always select "I" over "we", then you'll select illness over wellness.
Click here to learn more about the many benefits of yoga, and a variety of methods to help you achieve those benefits. As well, you'll learn that yoga is not really about physical exercise as much as it is a lifestyle of love and vitality and inner tranquility.