Although I love to share my own recipes and the recipes of others, I must confess that I do not follow recipes myself. That's because I have way too much fun just throwing random ingredients together for a new taste and texture at every meal.
Today my fridge is nowhere near full, so I figured this would be a good day to show you that miracles can happen with very few available ingredients. This experiment came out even more beautiful than I had planned. And by the way, I am pleasantly surprised quite frequently, so I would encourage you to live a bit "dangerously" too.
You can try my very own pink frothy smoothie du jour, or make any substitution that you want:
1/2 pineapple (or some other sweet fruit… maybe mango or peach)
1/4 head of purple cabbage (or I suppose any other cabbage or lettuce, but the purple fills this recipe with antioxidants and makes it look amazing!)
one thumb-sized piece of ginger (or maybe fresh curcumin, ginger's cousin)
the liquid from one young coconut (or coconut milk or just regular spring water)
a squirt of pure vanilla essence (preferably not processed with alcohol)
Toss all the ingredients in your Blendtec or Vitamix blender, and hit the "smoothie" button, or otherwise just blend it until the mixture is so frothy that you can't wait another second before drinking it.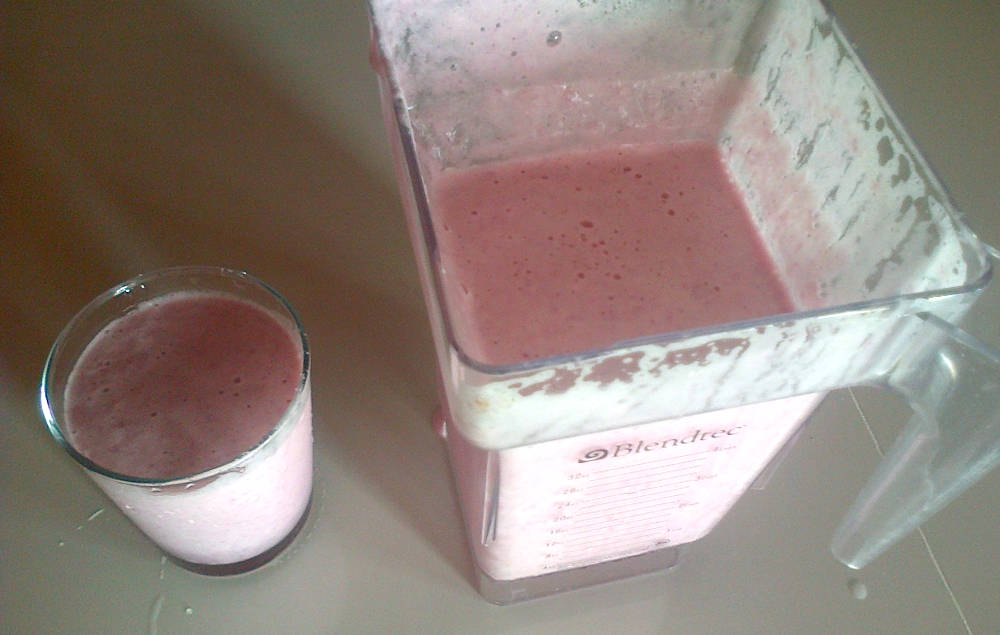 Aqui esta una receta facil para un batido rosado delicioso:
1/2 piña
1/4 cabeza repollo morado
un pedazo de gingibre (del tamaño del pulgar)
el agua de una pipa
Tira todos los ingredientes en su licuadora (recomiendo Blendtec o Vitamix), y presiona el boton para hacer licuados.  El licuado esta listo cuando tiene una textura ligera e irresistible!